MISS DIG has released the 2017 Excavation Handbook For Gas & Liquid Pipelines. For your convenience, it's available for download below.
This publication has been prepared for Michigan's excavators as a reference tool when interacting with MISS DIG 811. We recommend that you share the information in this manual with all employees involved in excavating in the field, as well as office staff responsible for creating MISS DIG notices. Important information is included about safe excavation near pipelines. We suggest that you keep this manual on hand for future reference when questions or problems arise.
INTRODUCTION
Michigan's natural gas utilities, transmission pipeline operators and MISS DIG 811 are providing this handbook to excavation contractors as part of their Pipeline Public Awareness programs. We want to partner with you for safe-digging practices to help protect the public, your employees and the environment.
There are thousands of miles of high-pressure natural gas lines, petroleum transmission lines, and lower-pressure distribution lines throughout the state. Pipelines fuel our economy and way of life by bringing clean-burning natural gas to homes and businesses.
Underground transmission pipelines carry natural gas into our state from Texas, Oklahoma, Louisiana, the Gulf of Mexico and Canada. According to the U.S. Department of Transportation, pipelines are the safest, most reliable and cost-effective means of transporting energy products such as natural gas over long distances.
We work with local, state and federal agencies in implementing programs to encourage safe digging and pipeline security practices and to ensure high-quality pipeline monitoring and maintenance.
Each year thousands of utility strikes occur in Michigan, including damage to gas and pipeline facilities. These strikes cause service outages, put employees at risk, and result in costly repair bills for excavators. The information provided within this booklet can help reduce or eliminate your likelihood of strikes occurring during your upcoming projects.
Please take the time to review this information and share it with your co-workers. For more information, please contact the natural gas utilities, the transmission pipeline operators or MISS DIG 811 at the telephone numbers or websites listed in this handbook.
Click below to download the PDF: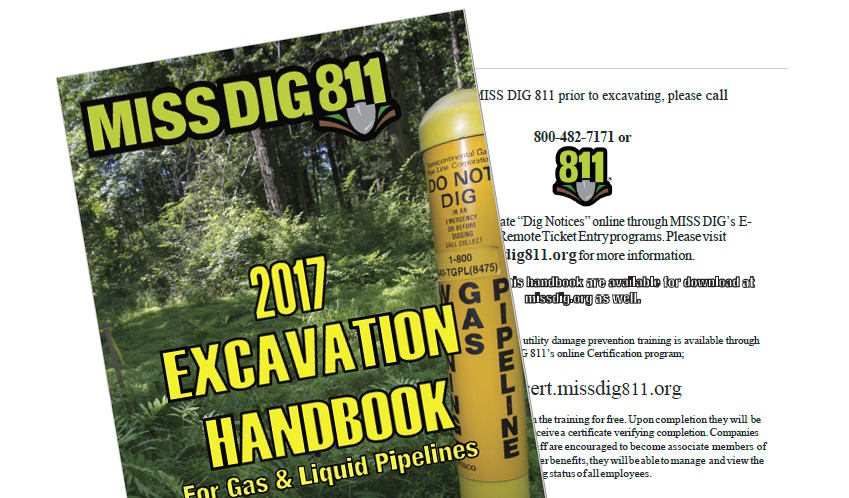 ---
At Ron Meyer & Associate Excavating, Inc, we've been providing underground and commercial construction to private and commercial businesses for 39 years. As the general contractor or subcontractor, our experienced foremen, equipment operators, pipe layers, truck drivers and well-maintained equipment fleet make us an undeniable choice for your excavating services. Let's talk about your project!